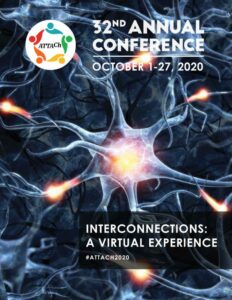 We last posted about the ATTACh Conference at the beginning of the year, to share the brilliant news that Nick Smith was co-delivering a Workshop Presentation with Éadaoin Bhreathnach in Minnesota. We were really excited to see so many of our other professional colleagues also travelling to the USA to present too.
Things have somewhat moved on since then! Due to Covid-19, plans have had to change to ensure everyone's safety. However, just as we have found new ways to support children and families over the previous months, we've also found new ways to share information and learn from each other.
The ATTACh Virtual Conference schedule promises a thought-provoking array of presentations relating to trauma and attachment. We'd like to specifically celebrate our colleagues (many of whom are OT's) who are presenting on the international conference stage- albeit virtually! As Sensory Attachment Intervention therapists, we have the privilege of a wide reaching network of specialists, and it is great to see so many of them sharing their knowledge during this conference. Please take a look at some of the OT workshops and plenaries being delivered below; we can't wait!
Tuesday 6th October –
Clinical Observations: A Trauma-Informed Approach (Workshop Presentation), Éadaoin Bhreathnach & Nick Smith
Tuesday 13th October –
Implementation of the Just Right State Protocol, (Presentation), Chris West
Thursday 22nd October –
SAI: An Integrated Approach to Developmental Trauma, (Plenary), Éadaoin Bhreathnach
Tuesday 27th October –
The Development of a Trauma-Informed Clinical Observation, (Presentation), Julie Davis & Emma Keogh
There are so many other fantastic speakers including Dr. Janina Fisher, Kim Golding, Susan Harris O'Connor – and so many more. The full schedule link is below which takes you directly to the ATTACh website.